The business world has been experiencing rapid changes driven by two major factors – technology and demography. At one end the man and machine divide is thinning, and on another, the Millennials are becoming prominent players in business strategy.
As new age technology is all set to disrupt businesses in the Industrial Revolution 4.0, the need to upskill the human resources is becoming increasingly important. What has become even more important is to strengthen transferable people skills to keep them agile in order to meet the rapidly changing HR requirements.
Simultaneously, millennials are looking for jobs that utilize their skills and offer them a harmonious work environment. Numerous surveys report that 'meaning' is more important to this generation than 'money'
Vyakta, a people development firm from Pune, is one of the leading organisations in the country serving this need. "We understand that the new generation looks at work as more than just a means to pay bills and secure a future," says Rashmi Jha, co-founder at Vyakta. One of the early millennials herself, Rashmi quit her well-paying job at IBM in Pune to "follow her heart".
Over the last 8 years, Vyakta's focus on results has won more than over 35 clients, some of them being L&T, Asian Paints, Deloitte, Aditya Birla Group, Sun Pharma, Voltas, BASF, General Mill.
The enviable client list encompasses numerous stories of professionals finding new skills and self-belief to chase their work-life dreams. The high levels of customer loyalty is a proof that not just the learners, but also the businesses love what Vyakta accomplishes through its programs.
Enhancing confidence in every individual
"Our vision has been to help individuals realize their work life goals through developing skills and inculcating values", elaborates Rashmi. Vyakta believes that 'enablement' is one of the key ways in "making work life worth living," their core purpose.
The team at Vyakta believes that for people to discover moments of joy at work, it is crucial to approach it with the confidence that they can do it. "How can I look for fun and excitement if I am in doubt whether I can do the job," says Pratishtha Saxena, Addl Director and Coach at Vyakta. "When I am confident in my abilities to perform a job, I feel confident to make decisions and focus on the results. That is how I attain my sense of achievement," adds Pratishtha.
"We all dread monotony at work, and at times feel limited in our ability to do the next level job," says Payal, "whereas, the clients feel held back in chasing business goals because the teams fall short on some basic skills such as communication, coordination etc."
It is also reflected in the fact that at one end India produces a dangerously high number of unemployable graduates and on the other businesses struggle to find people with the right skill sets.
When people have the skills to win the jobs they love, and the companies can find people who are capable and willing to do that job, it is a win for everyone. Vyakta's purpose is to bridge this gap by blending enablement with values.
"My need to make work places happier is fuelled by the opportunities that Vyakta offers. Making work life worth living is our motto and I find it gratifying that I am playing an integral part in helping team Vyakta to lead a motivated and satisfied life. This is a place where it allows me the space to"
         – Namita Parikh
Industrial Psychologisyt and Change Agent at Vyakta
 Vyakta's tread and rise
Vyakta's approach to solution design is focused on solving day to day business problems. "Studying the business need in depth, and finding causal relationships with the capabilities to be developed is the first step," says Ashish Kumar Jha, the founder of Vyakta.
Ashish, an ex-reporter with The Indian Express and The Statesman, had himself struggled with capability gaps. "I needed to acquire skills that would enable me to become a reporter, however, any courses reviewed could at best enhance my knowledge. And while the knowledge was valuable, that alone couldn't have taken me past the reception desk," reminisces Ashish about his own struggle while chasing the dream to be a scribe.
His own journey taught him to re-look at learning strategies, and further research by the team resulted into an award winning paper, "Lifting Karna's Curse" at Mumbai HR Summit.
Vyakta too subscribes to the age old adage of 'you can't manage what you can't measure'. Hence, the step two is to agree upon yardsticks to measure progress.
"Habit change is crucial to making learning sustainable," says Namita Parikh, an industrial psychologist and a key member in Vyakta's research team. That is why the learning programs by Vyakta are run over minimum 15 weeks. There are experiential workshops, interspersed with personal coaching, regular monitoring of progress and constant engagement with line managers to ensure that there is no proverbial stone left unturned before the reaching the finishing line.
Developing communication capabilities
 Vyakta focuses on developing 'Communication' capabilities in people across all levels. This branches into learning programs related to 'Presence', 'Behaviour' and 'Leadership'.
"When we began, the bulk of the need was around coaching professionals from tech background to be more structured and fluent in conveying their thoughts," says Rashmi.
"Dreams and Dedication are a powerful combination. Vyakta not only taught me to dream big and chase it fearlessly."
                       – Apoorva Modak   Coach at Vyakta
 "After SCMHRD, joining Vyakta was baptism by fire. I started engaging with the clients and coaches right from Day 1. Everything I do here is aimed at delivering something concrete and useful."
– Kumar Shivendu Facilitator at Vyakta
However, as the organisation grew the clients shared more complex needs, and the target groups started including managers and leaders.
That is how Vyakta arrived at the five levels of communication model.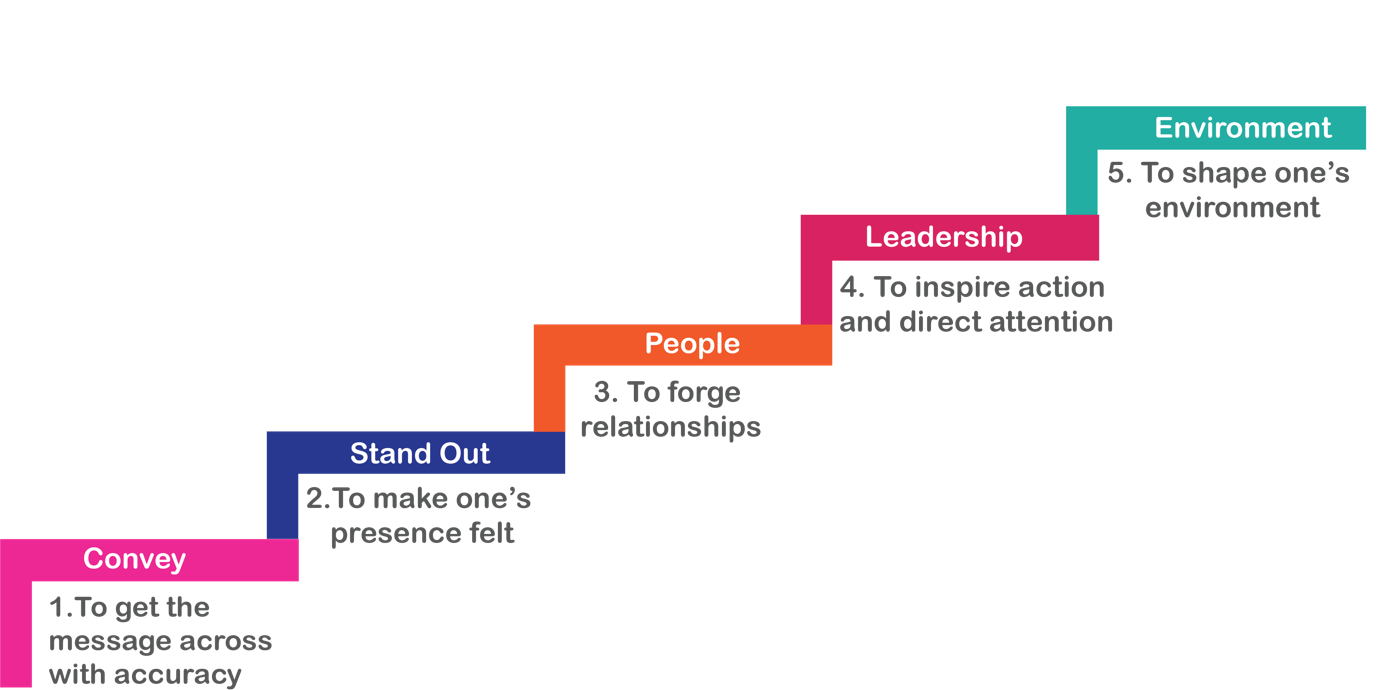 Each level corresponds to different business needs. When a client organisation experiences efficiency issues owing to supervisors and engineers consuming too much time because the managers get drowned in the details, Level 1 programs solve the problem. At the same time, when the manager-leaders find it difficult to connect with the team and are unable to inspire action, Level 4 programs do the trick.
Thinking, Articulation, Accuracy, Emotions and Tacit Assumptions are some of the key elements of the program design at Vyakta. The proprietary Capability Matrix defines each of these elements in excruciating details, facilitating custom designed programs for the clients.
Team and culture
As a business organisation, Vyakta challenges a lot of notions of how teams function. A vibrant group of young millennials, mostly women, show us how conventional structures based on hierarchy are not always essential.
The team spends 6 months training to be coaches and finding their true calling. During this time, they learn that values such as 'Care for the Learner' and 'Rigour' are more than just words. They learn to apply these values to be self-guided and decision oriented.
As a result, Vyakta has a culture that offers high degree of autonomy to the team and constantly enables them to meet their objectives. Self-discovery and development are a key part of their job description.
 "Vyakta has laid down a path to enable me to make a difference in people's life and bring them closer to their potential."
                                                –Sonal Narvekar   Coach at Vyakta
 While, Prerana Khokale says,
"Vyakta has helped me discover many new dimensions of self. I, also have developed skills which compliment both my work and my personal life. Lessons that I learnt are never restricted to a particular domain but they influence my personal decisions too. This is what makes it most satisfying and fills me with an enthralling feeling."
Striving towards better learning
In 2015, in yet another award winning paper, Vyakta had posited that it is possible to measure learning effectiveness and return on investment using Data Analytics.
Furthermore, it can be used to design predictability models to forecast the probability of success of a learning program.
That's where Vyakta is headed to. The years of data mining has enabled them to take the coaching experience online and use insights from the 50,000+ people coached from large Indian businesses.
Rashmi, merging her tech skills with her coaching experience is leading the development of a web application that may revolutionize the learning experience. The application will act as a data analyzing tool that will help Vyakta evaluate and predict trends. The tool will enable organizations to map job needs with people capabilities, and find the right mix of learning strategies to achieve enablement without much trial and error.
"At our heart, we are always going to remain a people company," says Rashmi. "Technology will definitely be an important enabler, and will also allow us to reach globally. At the same time, we need to keep reminding ourselves that a meaningful work life will also bring the much needed stability to the society at large," reminds Ashish.
"Vyakta provides me opportunities to meet new people and transform them. When you touch lives of several strangers and help them overcome their challenges, the feeling is incredible."
–Dolly Jangid,  Coach at Vyakta
"Working at Vyakta has made me curious of the ways to solve daily complexities and shed the inhibitions we carry. The experience gives me a great deal to learn and in turn impart the same to my learners."
–Farheen Khan,  Coach at Vyakta
"Feel challenged, have fun meeting those and get rewarded with a sense of achievement. Coaching people to become more adept in their everyday job is simultaneously exciting and rewarding. Every individual we coach is unique; hence we have to think afresh each time. Work and play comfortably commingle here for me."
–Rutuja Kadam,  Coach at Vyakta
 "My goal at Vyakta is to help people become a better version of their selves in order to achieve greater heights in their professional and personal lives. It's a big job and I love it."
–Shaina Sharma,  Coach at Vyakta
Source :- The 10 Most Admired HR Solution Providers